Karpaz bölgesinin en güzel yerlerinden olan Zafer burnunda, Apostolos Andreas manastırına 3 dakika yürüme mesafesindeki View Otel, deniz manzaralı ve Klimalı odaları, ile sizleri misafir etmektedir. 15 adet odası, açık ve kapalı alan restaurantı, Hijyenik mutfağı ve köy fırını ile sizlere unutulmaz bir tatil imkanı sunmaktadır.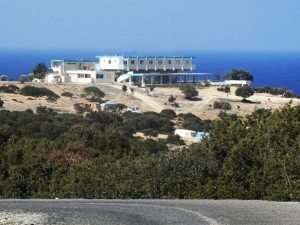 Karpaz View Hotel has a spectacular location overlooking the coast with panoramic views just next to the St. Apostolos Andreas Monastery. Located in one of the most beautiful spots in Karpaz. It is situated approximately 20 minutes drive from the Dip Karpaz Village where St. Apostolos Andreas Monastery is signposted and just 3 minutes from the Holy Monastery on foot.
View Hotel is ready to host you with 15 rooms all with air conditioning and sea views. Outside terraces offer seating areas within a stunning setting. The restaurant has both indoor and outdoor seating facing the beautiful Mediterranean sea and servers traditional local cuisine.
The Karpaz View Hotel is run by the Dipkarpaz Municipality.